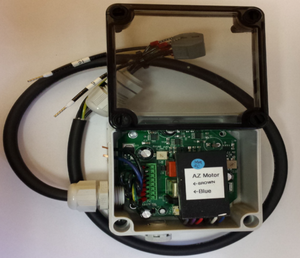 Designed to help DEGER dual-axis trackers that struggle to follow the sun in windy conditions.
The SOS box will measure the AZ motor's current draw and protect it from overload once the current reaches the limit of the AZ motor. The SOS box will automatically activate the elevation briefly to drive the solar array up to reduce the wind load.
Extends the life of a DEGER tracker's AZ motor.
Protect the AZ motor from overloads for roughly the same cost as a new replacement motor.
Condition: New