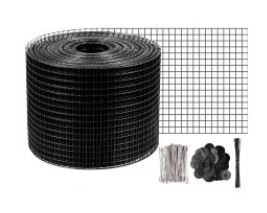 Rodent Protection Kit contains:
- 1 roll of steel wire mesh, 98 feet long, 8 inches wide
- 100 J-hooks
- 50 zip ties for corners
The wire mesh is made of steel and coated in black PVC; resistant to weather and rust.
The mesh has 1/2 inch openings to keep rodents and birds out, but allow wind and water flow.
J-hooks are stainless steel.
Condition: New